Malasimbo Festival
Held at Mt. Malasimbo last March 2 - 4.
Right now, I'm still hung over. I mean, if there was one place I'd like to stay and chill, listen to music, hang out with friends, meet new people, have a couple of drinks, (and loads of other stuff I probably shouldn't mention), it'd be right there at Mt. Malasimbo. I mean, how awesome can it get? Art installations, renowned performers, beautiful scenery, perfect weather? Come on. Who would want to leave?
The whole experience was priceless. Even though we had a lot of expenses. Especially on transportation. But anyway! Watching bands perform while lying on the grass in such cold, humid weather was the most chill moment I've probably ever experienced. There was honestly no where I'd rather be but there and what's more important is that it's right here in the Philippines. People all over the world came to attend this event. They talked about how beautiful the provinces are compared to the cities. Hearing that just made me feel even more lucky to be there.
The crowd was so outgoing and friendly. They were easy to please and supportive of the performers which made every performance significant. Rain or shine, the show went on! People went down to the front of the stage to dance while the rest enjoyed the heavy rhythms from the seats. I sat there and took it all in. What an adventure.
There's so much more to say and I wish I could impart all my thoughts. It's one of the most memorable moments of my life and maybe next year, it will be yours too.
Here are some random photos I took of the event. Most of the good ones, I haven't posted because we might use them for my article.
Some of the photos below have been watermarked. I can't risk having the photos being posted elsewhere.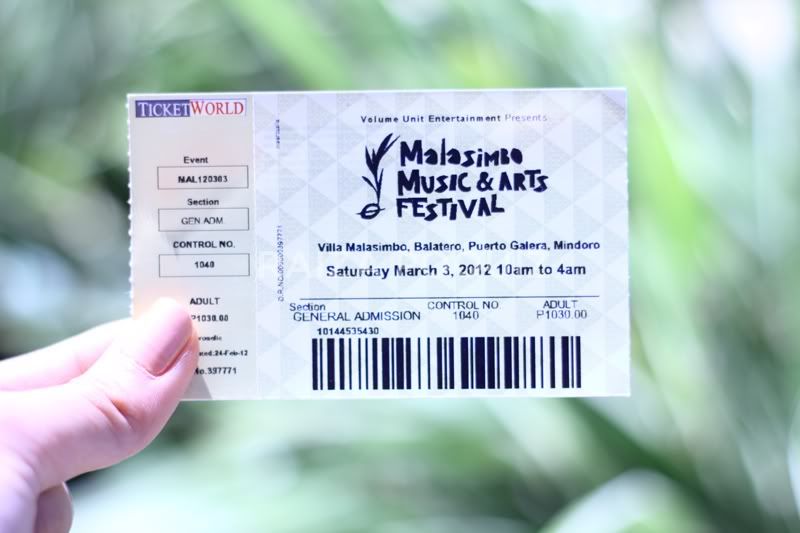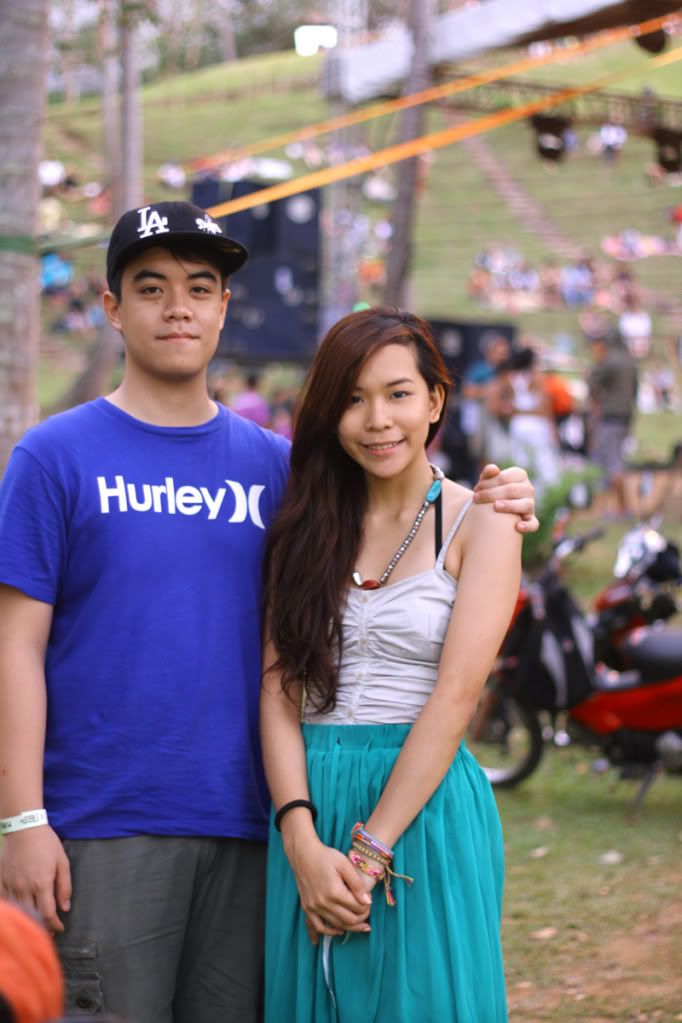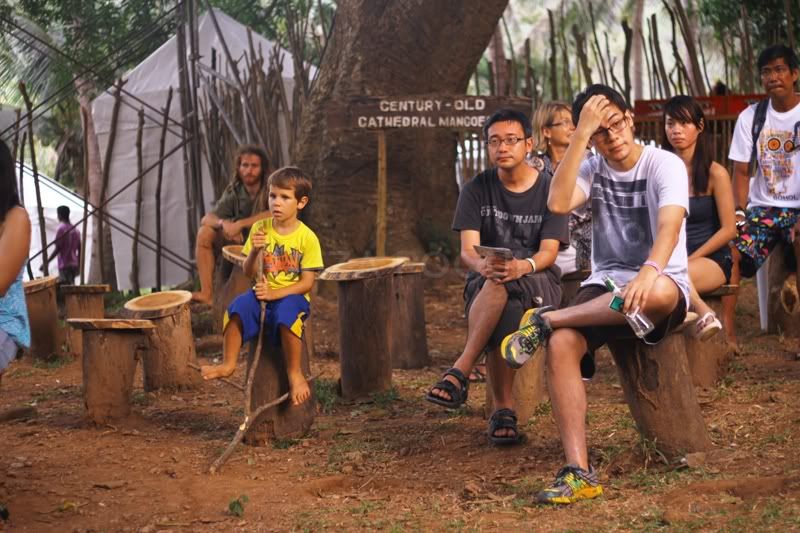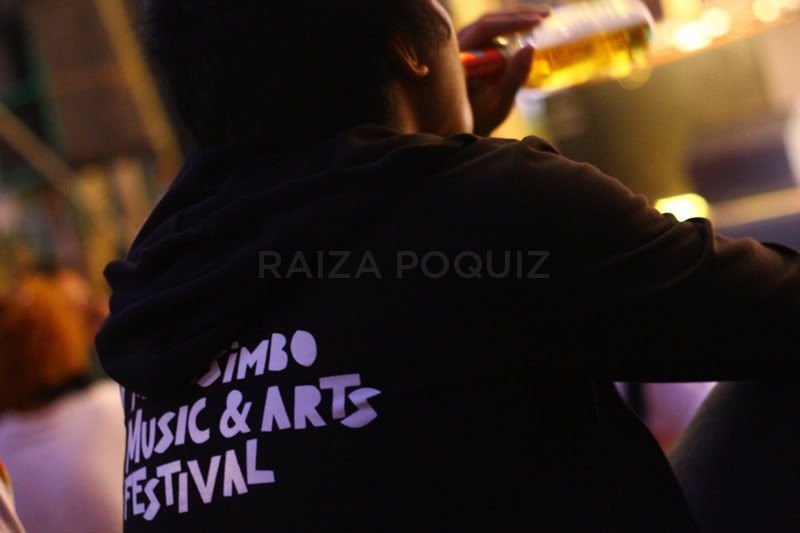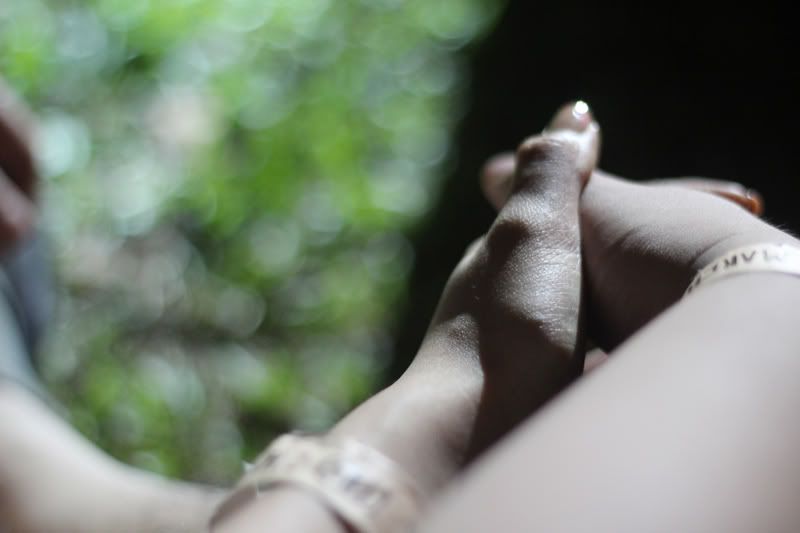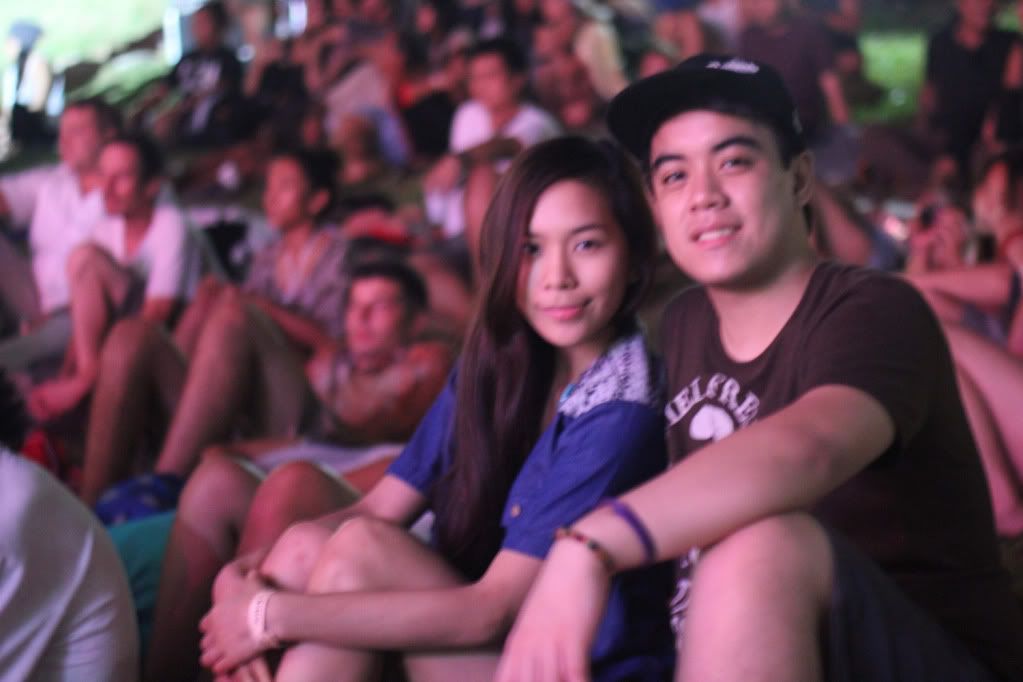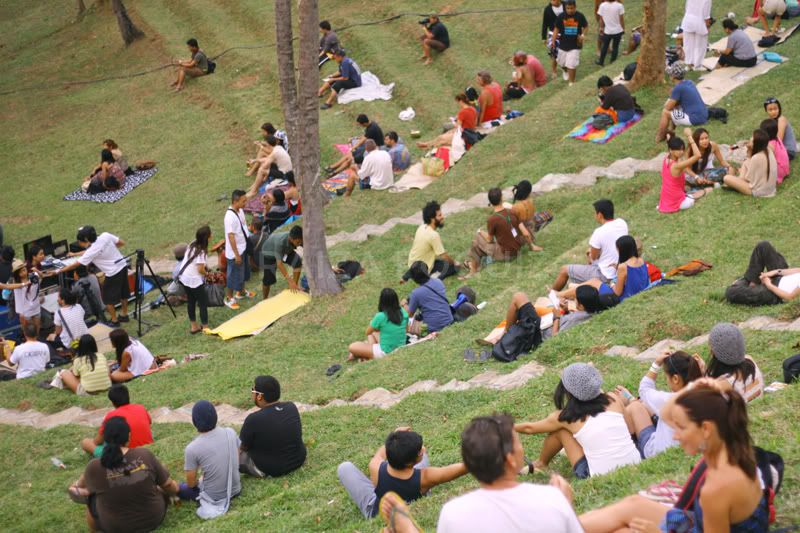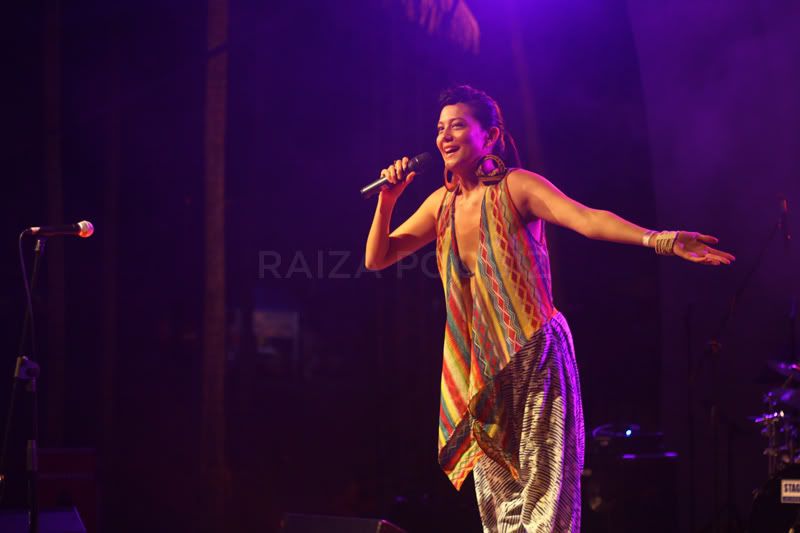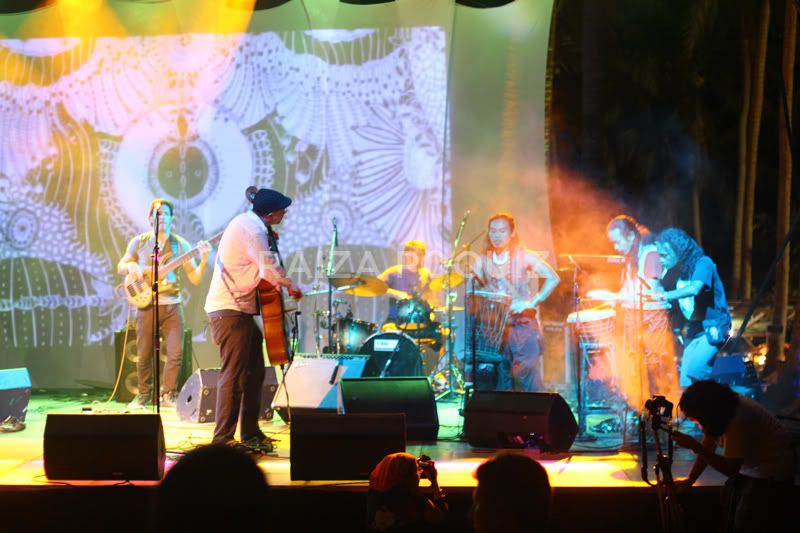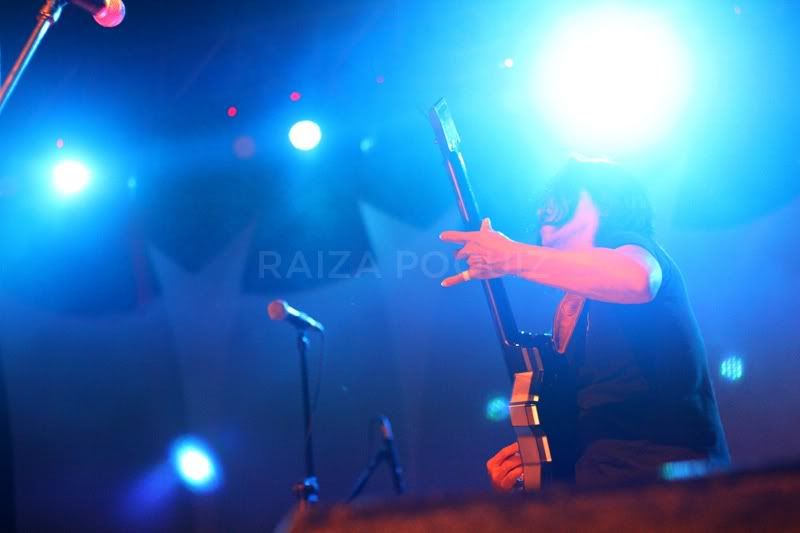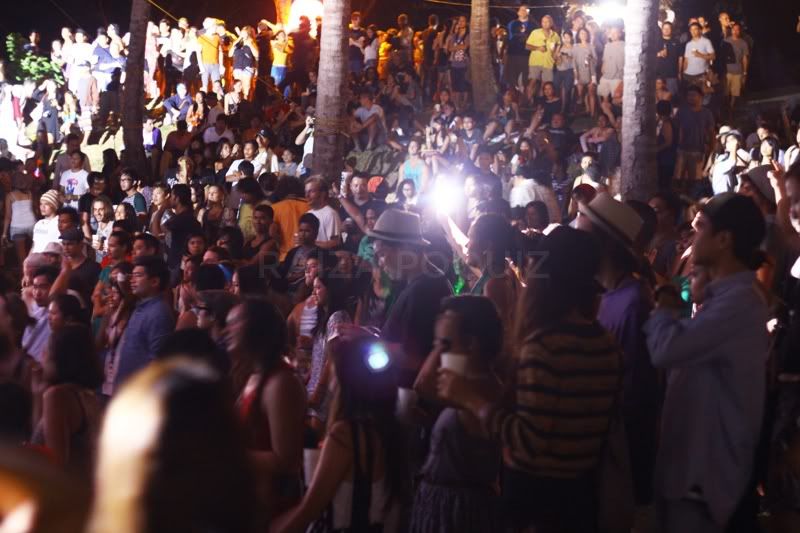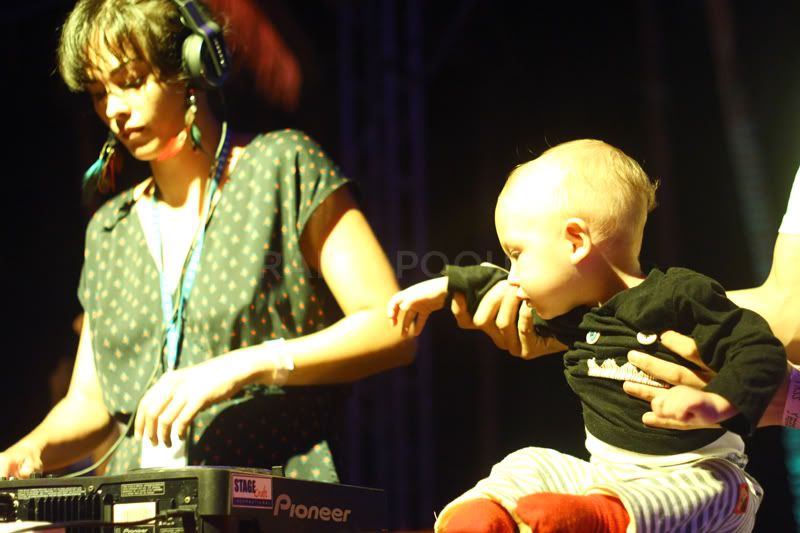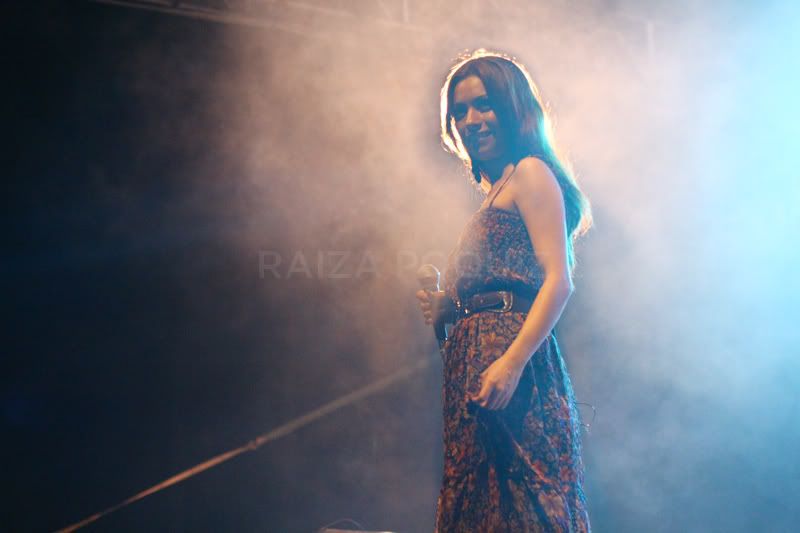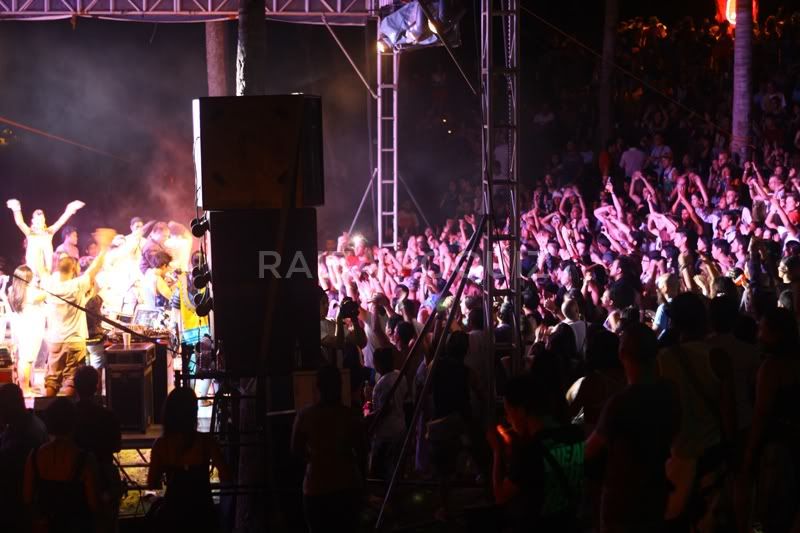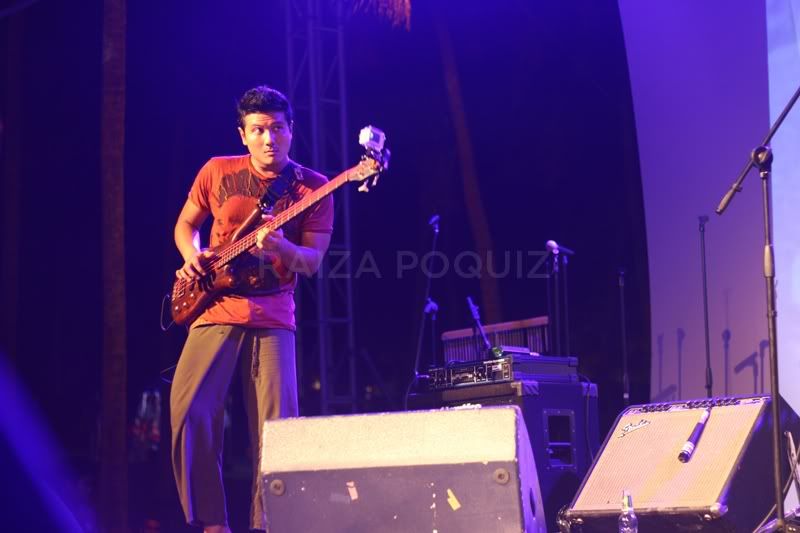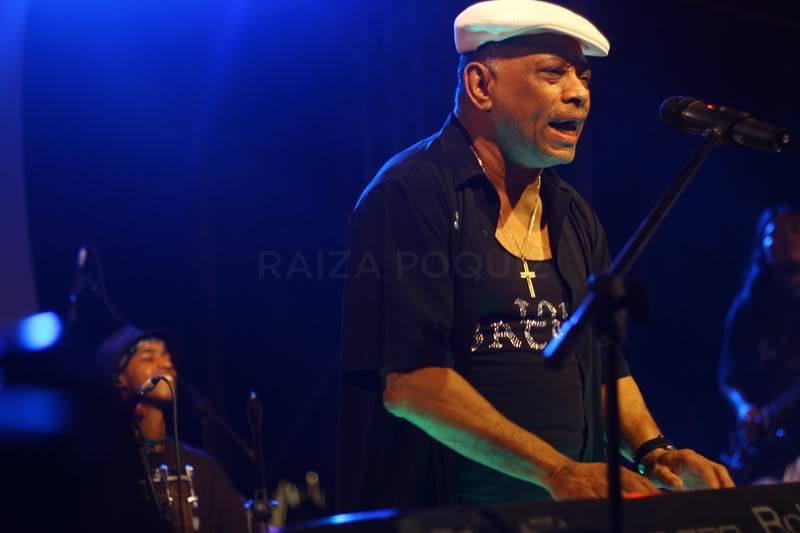 Photos in order: Malasimbo ticket for Saturday / D & I / Mangyan village / Official Malasimbo jacket / Holding hands / D & I / Grassy auditorium / Host Sarah Meier / Grammy nominated violist / Lead / Crowd / DJ Badkiss and her Malasimbo baby / Fire poi dancers / Sinosikat / Crowd to Brigada / Crush - Sinosikat bassist / Joe Bataan
Behind the scenes: Joco Shoes
Joco Comendador shoes are all the rage! I was lucky enough to be invited to a photoshoot with his fantabulous heel-less / half-heel creations.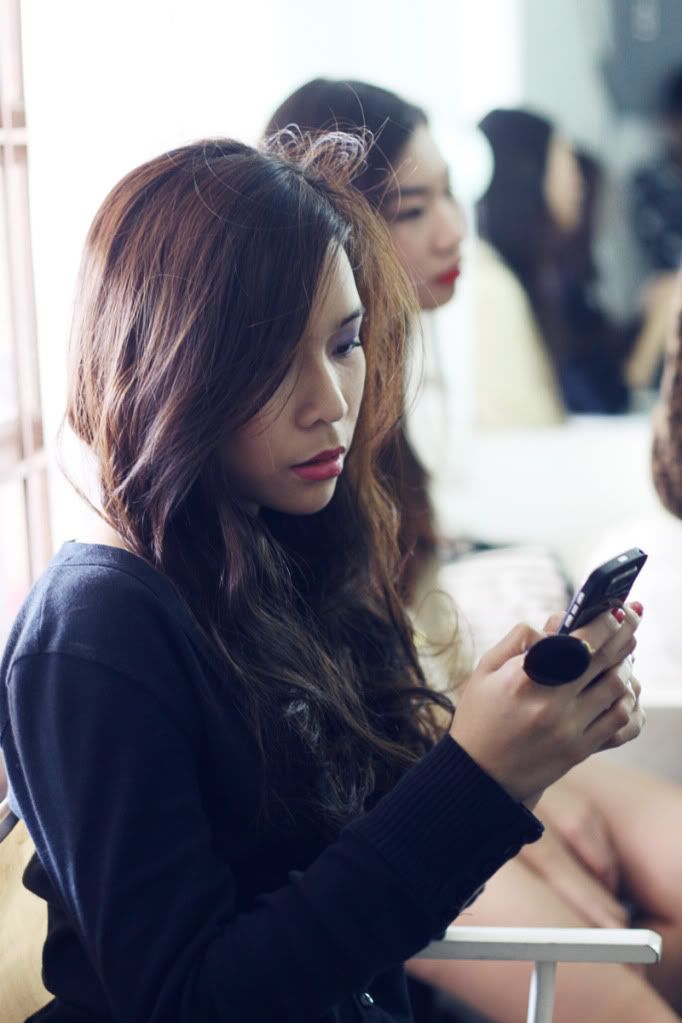 Yes, I came to the shoot with my hair and makeup already done :)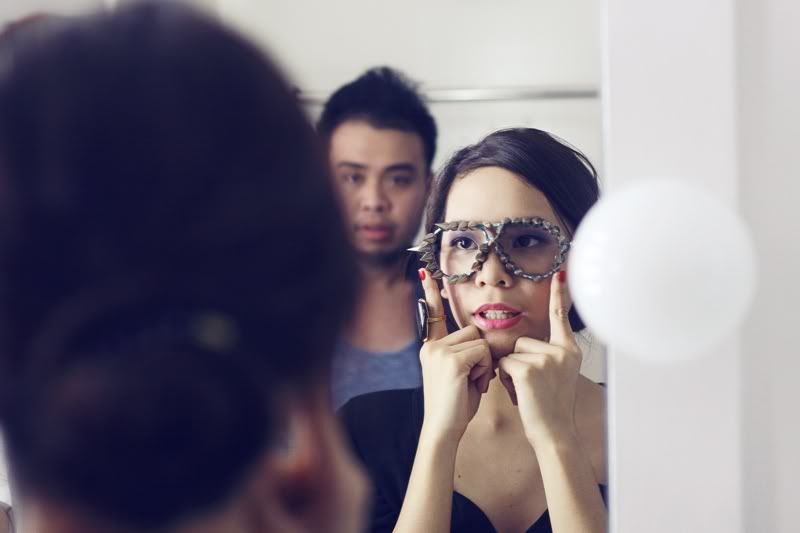 Joco's really cool frames. That's him at the back!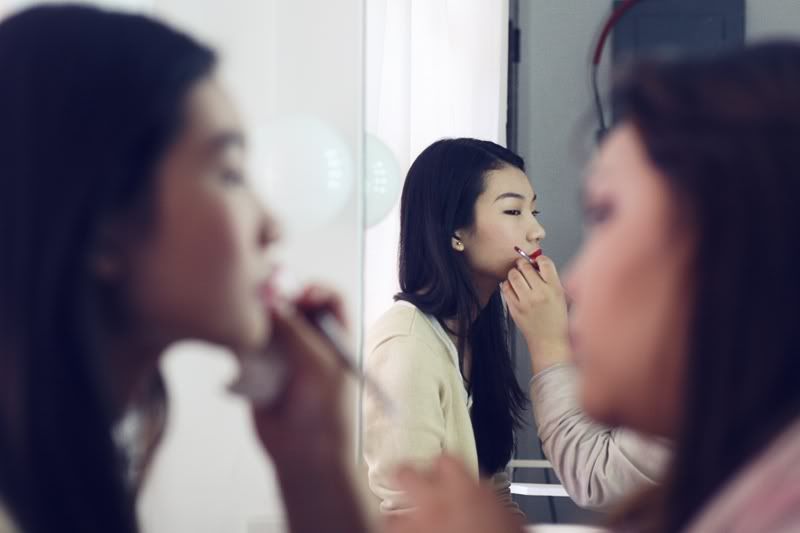 Melissa having her, err, lips done. HAHA We weren't really supposed to have our makeup done there. The makeup artist was kind enough to do our lips.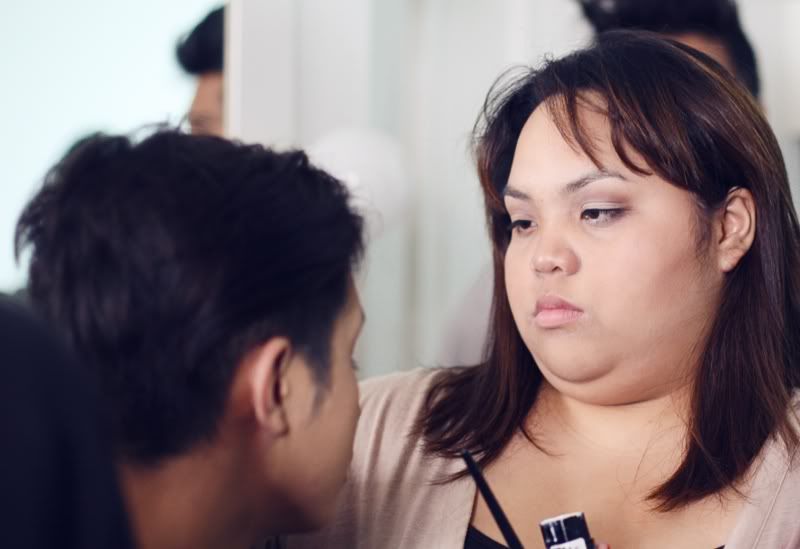 Meet Armin Merilleno. She's the makeup artist of the official models of the shoot seen below.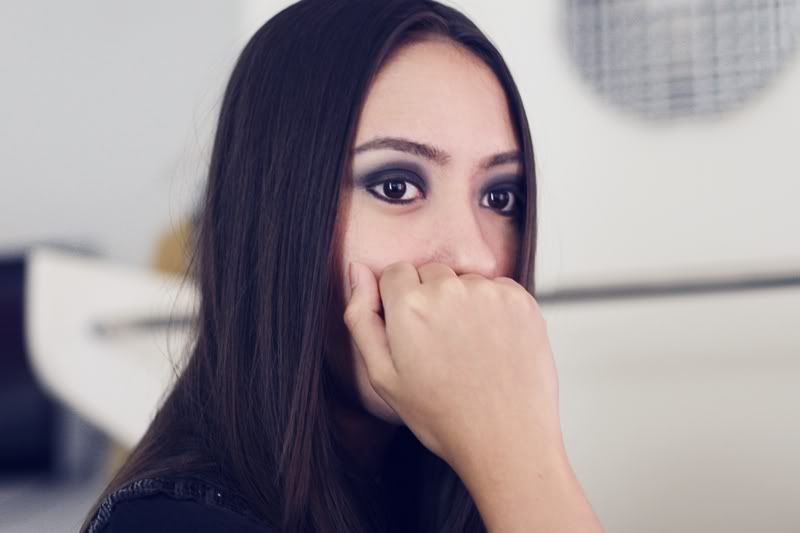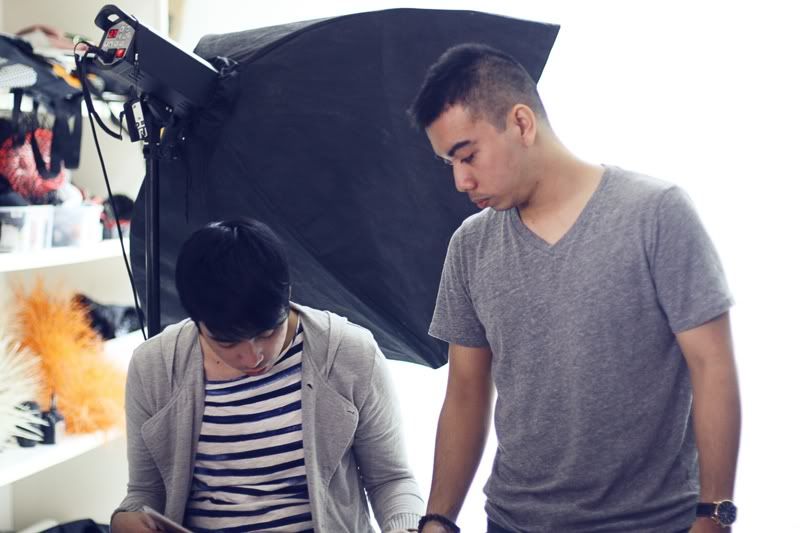 Photographers Kevin Cayuca (right) and Jerby Tebelin (left).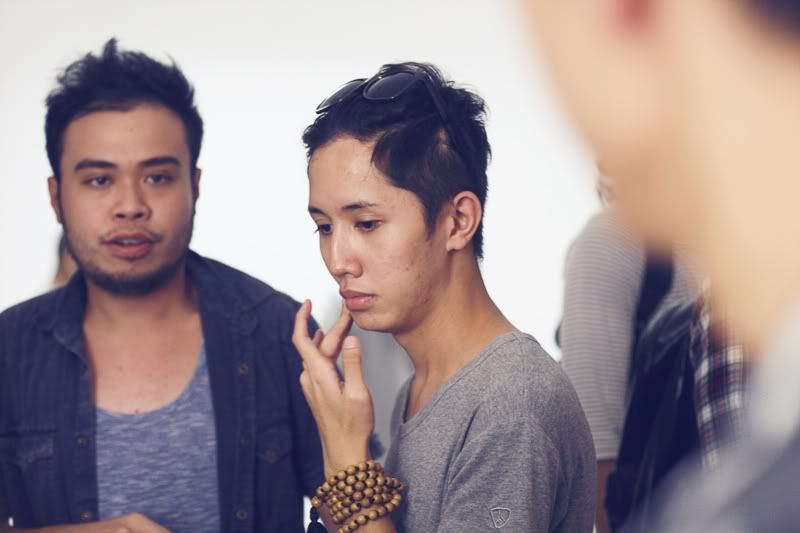 Joco and Niki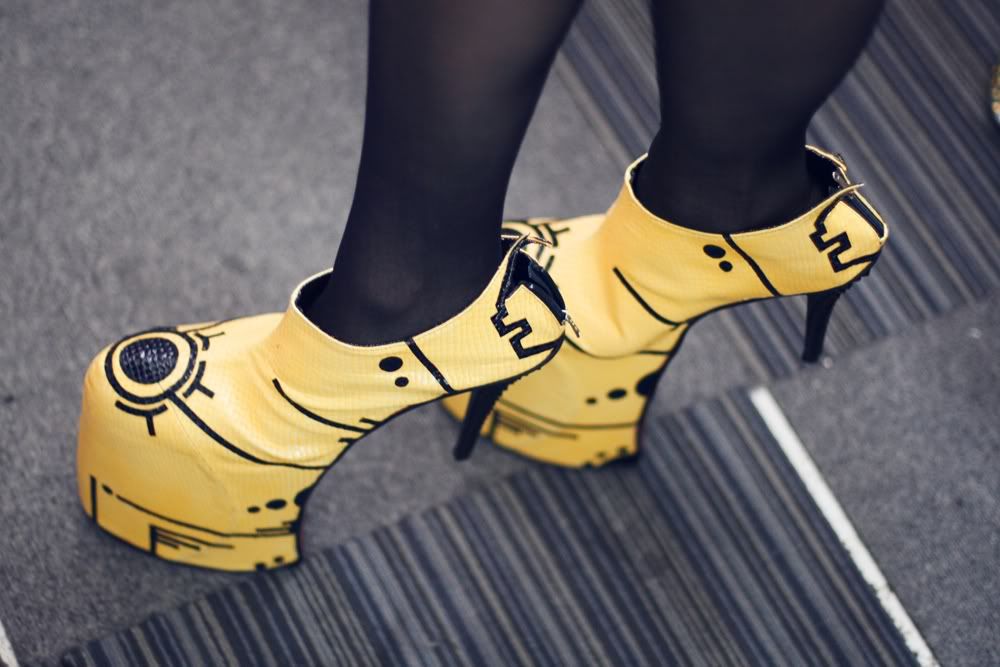 Yellow synthetic serpent leather with black synthetic serpent leather details and a spine heel. One of the fabulous shoes I got to wear that day. I didn't get to take photos of the others. But soon you shall see!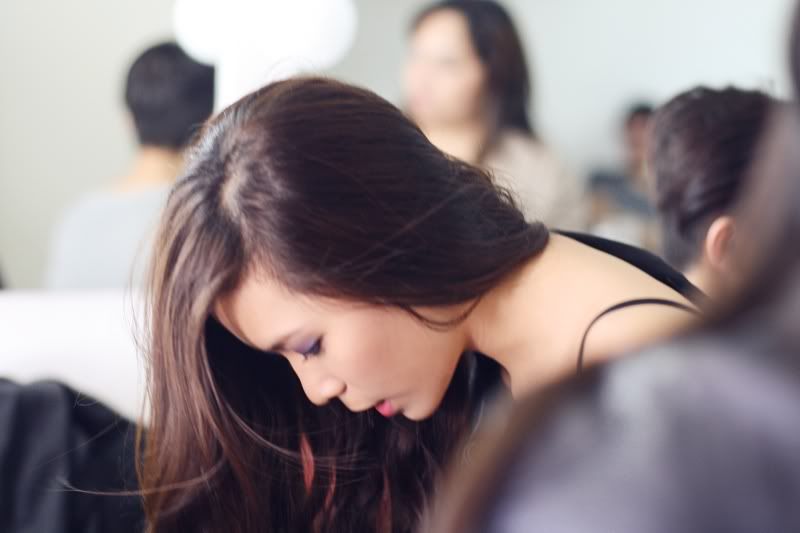 Gerard, my vain personal photographer that day. And model. HAHA Inside joke.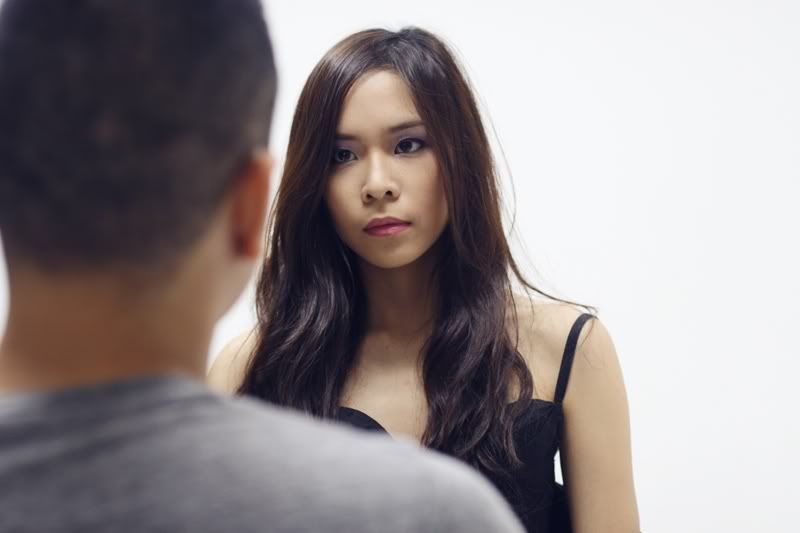 Talking to Kevin Cayuca. Check out his amazing work here.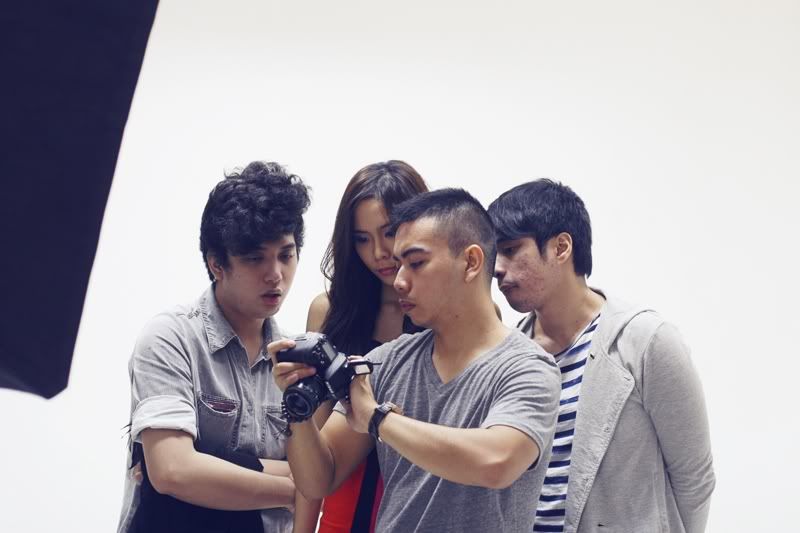 Edrick, me, Kevin and Jerby.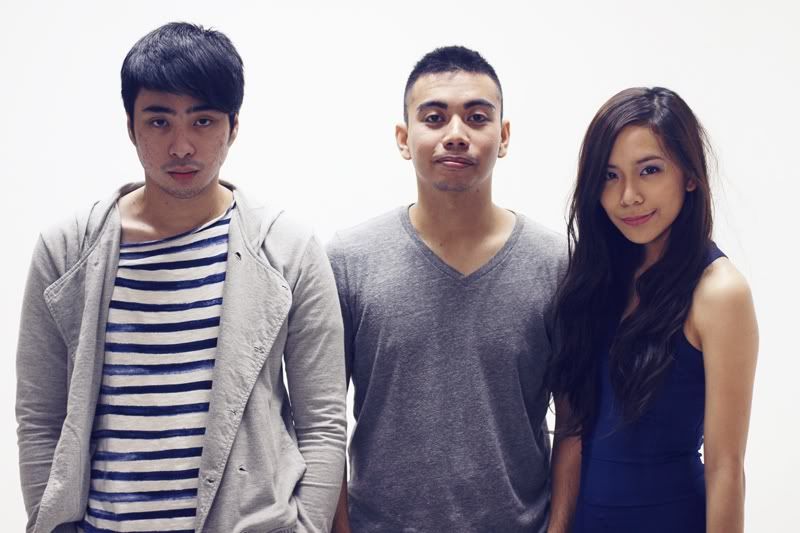 Won't reveal my whole outfit just yet. ;)
Was quite a long day for the team. It was extremely fun and everyone was just so easy to work with! Until the big reveal of the photos! Definitely worth staying tuned in for.
I love weddings! My cousin April's has got to be one of the most beautiful ones. Fernwood Gardens is amazing. The scenery, the lights, everything! Makes you wanna get married. HAHA
My BF Turns 21
Happy Birthday to my boyfriend, Dherick! Just last night, at midnight, came to his doorstep bringing gifts! Here are some photos of the gifts I gave him.
Shirt and jacket from Dean & Trent. 
I like wrapping my own gifts. Got brown cartolina and some twine. Twisting them will give you that leaf shape. I think wrapping your own gifts makes it more personal and meaningful.
Here's the paper bag I chose for the other gifts. I like how it looks like a Zara paper bag. 
HE GOT SO SURPRISED! Yay! Got it on video too! But my voice was too squeaky and small so I don't think I'll be posting it. Haha! These are photos before I left. We were actually wearing the same colors of clothing! Awww. Red and white!
I love you babe! :)
More photos to come from his dinner celebrations and inuman sesh!
Color Me Green
Design with conscience.
August 6, 2011 - Interior Zone exhibit hall, SM City North Edsa
A couple of my classmates and I attended the first of the four lecture series, I.D Your Home: Decorating from a Design Perspective
Today's seminar is entitled Color Me Green, a seminar on Sustainable Design by IDr. Marcelo Alonzo.
He shared with us the 4 R's.
Reduce. Reuse. Recycle. REBUY.
You might already be familiar with the first three, so I'll tell you about the last one. Marcelo explains that rebuy is one of the R's we should consider. To rebuy is to buy things that have already been used. For example, buying empty wine bottles to accessorize your room or make a chandelier such as this one. 
PaperStone countertops are widely used because of their sustainability. It's made from 50% post-consumer water and recycled paper and 100% post-consumer waste. They come in different sizes, colors and fibers.
Terratex fabrics is another example. It is 100% post-consumer polyester made out of largely recycled plastic soda bottles. It conserves the use of petroleum resources.
He also shared with us two design trends for 2011
[ 1 ] Rebirth. "Rise of the Lacavore" This trend explains that like the idea of the lacavore, which is to eat within a 100-mile radius from where you live, you should use resources that are within a 100-mile radius from where you are designing. In short, use local resources. This way, you get to help economically and advocate the use of local products.
[ 2 ] Wabi Sabi. The Japanese art of finding beauty in simplicity, the ordinary and in the imperfections. I just love this philosophy. It's one of the trends I would probably really get into.
In conclusion, he leaves us with the 3 D's. 
Decide. Design. Devise.
Decide the purpose and the materials you will use.
Design using post-consumer products as much as possible or something locally available.
Devise a way to create something that would have been trashed into a beautiful conversation piece.
Sustainability isn't just about design. It's about taking into consideration the effects of all our actions. It starts within us.
I leave you with some innovative, sustainable furniture pieces which I found really lovely and interesting. Note that sustainable pieces weren't meant to be used all throughout your home, but rather as accent pieces or conversation pieces.
The next seminars will be held these upcoming Saturdays.
August 13- Accessorizing
August 20 - Table Setting and Themed Table Arrangement
August 27 - Flower Arrangement and Foliage Styling
Same venue. Interior Zone, SM City North Edsa. 1PM Registration. Lasts about an hour. You get a certificate of participation afterwards. Definitely educational and it's all for FREE! 
Passed by this really cute store in Interior Zone. Only got to take a couple of shots cause it was prohibited. Haha. I'm stubborn that way.
* Speaking of green design, I can't wait for PSID's next exhibit - Jak En Poy: Bato, papel, atbp. All about SUSTAINABILITY. Can't wait! For updates, follow me on Twitter: misspopquiz
Drama Queen
Here's something not a lot of people know about me. It's not a big secret or anything. Just random, I guess, 'cause I don't get to talk about it anymore. I used to be passionate about theater. I was in the drama club in my school for about 5 years. Growing up, I've always wanted to be an actress, to perform on stage, to be under the spotlight for a few seconds just to say one line. I guess this is why they call me dramatic, or the drama queen. LOL. 
There's just something about getting into character and touching on the emotions and really getting the attention of the audience. I miss my old friends, Tyron and Mikhail. The guys who I looked up to because they really had the passion for it. I remember Mikhael joining a Shakespearean contest once. Amazing.
The last play I starred in (a serious and legit play) was back in first year high school. I starred as Lumnay in Canao. I don't know if you've heard of it, but it's quite popular. I remember rehearsing one-on-one with Mike or shirtless 8-pack Tyron, on stage with a dummy audience, then a real audience who were dead serious and quiet while watching me. It was all just rehearsal and if I remember correctly, I think someone came up to me and said how good I was. It meant a lot coming from someone random and I felt like all my hard work was worth it.
I see drama, I see literature as how they would define - a reflection of life. Drama should be portrayed in the most realistic way possible but seen effortless. Whenever I watch films, I always tend to notice how the characters would be portrayed. That's something that amateur directors/filmmakers should really take note of. One of the best advice I've heard is when you have this great plot, a story, or an awesome script, don't just ask someone who you "THINK can act well" or "MIGHT be able to" portray it or maybe "who just LOOKS the part" when you're desperate. Be SURE of it and your film won't go wrong. After all, they're the ones executing your film. I agree. I'm no expert at this or anything but it's something you, too, can consider.
When I was choosing what org to join in my school, of course Dulaang Filipino came up on my list, and so did St. Benilde Romancon Dance Company (because yes, I dance too) but I guess I didn't wanna give up my spare time for rehearsals and something I've already done. I'm the kind of person who keeps wanting to learn different things, trying out stuff and so this is who I am now.
Yes, I would get back into acting, maybe a short film or something, nothing too intense or wild, but serious, yes, emotional, yes. Hmmm. Maybe I should make one of my own.
Land Lubbers
For our Elements and Principles of Design class, each group had to present a table setting applying all the lessons we've learned. Our group chose Pirates of the Caribbean as our inspiration and worked from there!
Me mateys and I got the perfect grade of 100! We've struck the mother-load! 
Who's Counting
Dherick and I celebrated our first year anniversary last May 28. Although it was pretty stormy, we managed to get to Greenbelt.
I didnt know what to expect since it was my first time to eat there. I was pretty excited, I have to say! Nothing beats a great variety of food after a long tiring, stormy day.  So when we got there, we were 38th in line. WOW
And so we waited.
And after an hour or so, we finally had a table! Hooray! Time to eat!
And the rest was history. Happy 1 year to us, babe. 
The colors seem kinda weird since I uploaded them here. I dont know why. Oh well.
Secret Gallery
Haven't seen my two closest blockmates for the longest time and last Monday, we finally met up! What better way for aspiring interior designers to bond than to go furniture shopping! At Bangkal! They were looking for stuff for their condo and I helped them around and all. Until we stumbled upon this gallery!
So many paintings. I fell in love. 
Most of the artworks were done by students. I didn't really get to look at most of them cause my friends were looking for a bed frame at that time and they were in a hurry. Haha!
This guitar piece was sold for 20k. The painting was made by another young artist. His signature was the multiple bumblebees he would incorporate in his works. 
One of a kind piano. The owner let us play with it and he took a photo of us for his website. Will go back to that gallery once I get $$$.